Why U100 stands out from a wide range of oil-resistant gloves
Posted by Kai Hou on
Oil-resistant gloves are commonly used, for instance, in the automobile industry to contact with oil. U100, oil-resistant PVC gloves, is a good choice because of its excellent function and multi-purpose.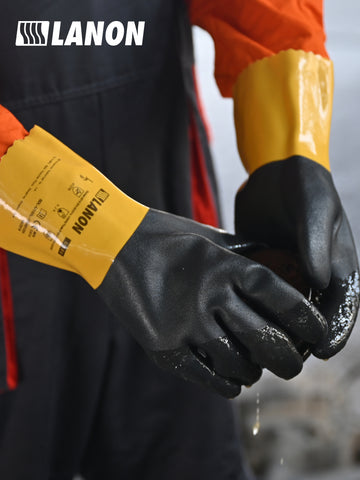 Benefits of U100
1. Extraordinary oil resistance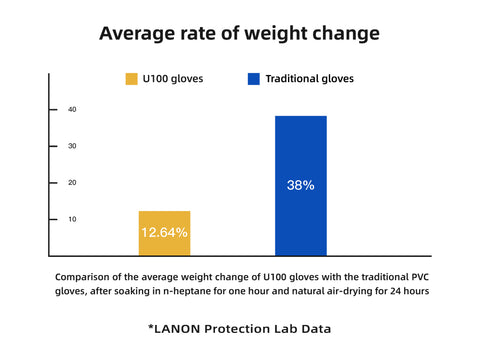 The greater the average rate of weight change, the worse the oil resistance. The test shows that the average rate of weight change of U100 is only 12.64%, one-third of the other PVC gloves. U100 significantly improves the performance of oil resistance.
2. Chemical-resistant hand protection
Professionals need chemical safety gloves to protect hands from chemical damage and skin burns. U100 is classified as chemical-resistant gloves at level B, according to EN ISO 374-1:2016. Except for oils, U100 is qualified to shield hands from a variety of chemicals like inorganic alkalis, inorganic acids, primary alcohols, saturated hydrocarbons, and so on.
3. Longer lifespan
U100 achieves the standard EN388:2016 - level 4, the highest level of abrasion resistance. Excellent abrasion resistance makes the gloves durable. 
4. Firm grip
The palm-frosted non-slip coating of U100 provides a firm grip and ensures high mechanical protection. It effectively relieves hand fatigue. 
5. Comfortable to wear
Comfort is so important because workers always wear gloves for a long-time to handle work. The shape of U100 is based on a 3D ergonomic hand design. It is also fully lined in cotton to provide long-lasting comfort. 
In summary, U100 is a great choice to handle grease or oil in various work scenarios. LANON Protection also provides a version - U100E, which is ideal for processing with the risk of ESD. Contact Us for Global Customization Requests.
← Older Post Newer Post →