Asian-flavor crunchy hot dog bun recipe
Posted by Kai Hou on
You may have bought this kind of hot dog buns in some Asian bakeries before. Now you could make it at home with Jade's recipe (IG@shebakesourdough). And it tastes better than the ones you get outside. So easy to bake.
Ingredients you'll need: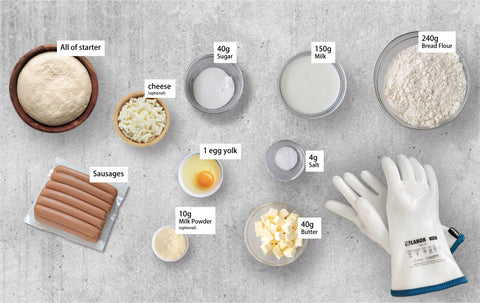 Easy steps:
1. Mix everything except the butter until the dough is strong and fairly elastic.
2. Add the butter in small cubes gradually and knead until window-pane.
3. Rest the dough until it doubles.
4. Divide the dough into 14 portions and roll them into balls.
5. Degas and shape as shown in the video. 
6. Proof until double.
7. Preheat oven at 365°F.
8. Eggwash and add embellishments, if any. Jade used a mixture of shaved parmesan cheese, bread crumbs and black sesame seeds.
9. Bake for 365°F for 18 mins.
10. Wear LANON heat&cold-resistant liquid silicone gloves to take the buns. The gloves handle heat up to 480°F.
So delicious! A crunchy and snappy sausage wrapped in soft and fluffy milk bread. How many could you eat at a time?
← Older Post Newer Post →