Fresh homemade crispy bagel recipe
Posted by Kai Hou on
Check out how beautiful and chewy the bagels are! They come with a very thin and crispy exterior, and have all the chewiness and firm texture inside. You will love this homemade fresh bagel recipe by @shebakesourdough(IG) and will not buy bagels outside again!
Let's get it! No fancy tools or techniques are required.
Ingredients you'll need(6 regular bagels ~115g each):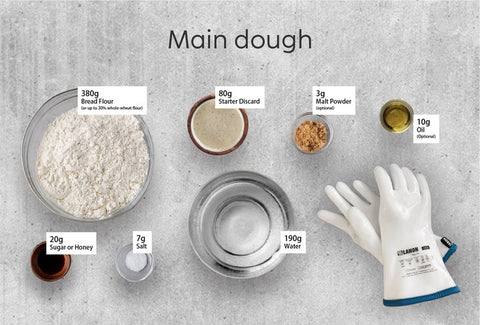 380g Bread Flour
(or up to 30% whole-wheat flour)
80g Starter Discard
20g Sugar/ Honey
190g Water
7g Salt
3g Malt Powder (optional)
10g Oil (Optional)
How to make bagels:
Combine everything (hold the oil) and knead the dough until it comes together nicely
Add oil and continue kneading the dough until it becomes smooth and stretchy (no need for window pane).
Proof until (almost) double.
Divide into 6 portions and roll them into tight balls. Rest for 15min.
Shape into bagels as shown in the video. 
Proof until double. 
Put a pot of water to boil and add a teaspoon of baking soda and sugar.
Boil for 10-20 secs each side and longer if you prefer chewier.
 
Wear your LANON heat&cold resistant liquid silicone gloves and no more burnt hands.
Top these beautiful bagels with anything you want, like cheese, or roasted seeds. Or toast them for your breakfast sandwich in the morning! Your favorite fillings will all work in these deliciously chewy fresh bagels.
← Older Post Newer Post →